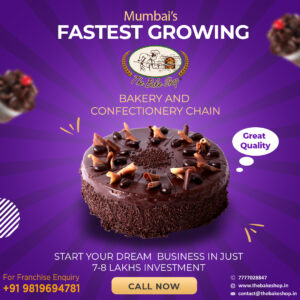 At 'The Bake Shop' we follow a fairly simple philosophy – offer a product of outstanding quality and ensure customer loyalty. The simplicity of that principle is backed up by a lot of hard work and years of experience. All our products are prepared in a modern semi-automatic factory where we adhere to stringent guidelines of hygiene and cleanliness ensuring a safe and healthy food preparation for all our patrons. We specialize in wide range of Bakery products, savory snacks, Breads and Eggless 100% Veg Cakes.
Bread Varieties include; Burger Buns, Pizza Base, Hot Dog, Footlong, Jumbo Sandwich Breads, Pita, Panini, Foccacia, Sourdough, Bagutte, etc.
We also make Brownies & Macaroons, Donuts, Cupcakes with Icing & Mousse, Tea Time Slice Cakes & Muffins, Puffs & Croissant, Rolls & Sandwiches, Stuffed Buns, Pizza & Calzone, Quiche & Pies, Danish Pastry, Cookies, Kharis & Toast, Breadsticks & Lavash.
Our 10,000 sq feet central Kitchen facility in Mumbai is equipped with state of the art equipment to produce a vast range of bakery and confectionery products. Our location advantage gives us easy access to the highway as well as the railway network using which, we can ensure rapid movement of finished product all over Mumbai City in the shortest possible delivery time. We have developed end-to-end processes using only the freshest and finest natural ingredients to produce the highest quality Egg-less Vegetarian cakes for all occasions. We will also make sugar free, diabetic-friendly, healthy foods. Our stress on meticulous planning and strict discipline of timely product delivery facilitates the adoption of a Business to Business model that caters to Cafes, Fast Food, Multi-Cuisine restaurants and also Bakery & Confectionery needs of small and mid-sized hotels.
Mission Statement:
Pantree Hospitality and services Pvt. Ltd aims at sustainable growth and profitability by meeting the needs of its customers with products that are distinctive in terms of both quality and consumer satisfaction.